Carpal Tunnel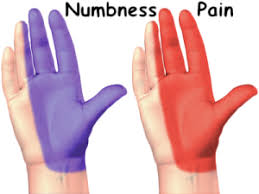 Carpal Tunnel Syndrome involves compression or irritation to the Median Nerve as it passes through the Carpal Tunnel at the wrist. The Carpal Tunnel itself is the name given to the structure formed the transverse carpal ligament anteriorly and the carpal bones of the hand posteriorly. The structures passing through the tunnel include the Median Nerve, Median artery and vein and the flexor tendons of the forearm muscles as they make their way to their attachments at the fingers.
What Are the Symptoms of Carpal Tunnel
The typical symptoms of Carpal Tunnel involve pain characterized as numbness and tingling of the thumb, index finger, middle finger and the thumb side of the ring finger. There is usually an insidious or gradual onset to Carpal Tunnel symptoms. Sometimes the onset is more sudden and may follow a flare up of associated neck pain.
Pain may also extend up into the arm. As the condition progresses it may worsen and begin to affect grip strength. This is due to weakness developing in the muscles supplied by the Median nerve below the point of compression. The muscles at the base of the thumb may also undergo a process known as atrophy which means to waste away. In more than half the cases of Carpal Tunnel both sides are affected.
What Causes Carpal Tunnel
The most common cause of carpal tunnel syndrome is Inflammation of the flexor tendons from repetitive hand movements such as typing, manual work, and using vibratory machinery such as jack hammering.
In the absence of dysfunction, it is likely the majority of individuals can withstand the activities mentioned above. Dysfunction may involve a bone fixated within one of the wrist joints leading to compromise by increasing pressure through the carpel tunnel. In many cases there may also be irritation to the main branch of the Median nerve as it exits the spine from a lower neck problem such as a disc bulge. If this is more centrally located there may be bilateral involvement or carpal tunnel in both wrists.
How Can Gonstead Chiropractic help?
At Pinewood Chiropractic the Doctors use a the Gonstead Methodology of Chiropractic. A complete health history will help us determine if your condition and case is suitable for help by us. We then conduct a thorough examination, carefully looking for fixations and misalignments that may be associated with the nerves that travel down your arm to your hand. We also perform assessment of the extremity joints at the wrist, hand and elbow to determine if there is concomitant dysfunction at these structures causing or contributing to the symptoms of Carpal Tunnel Syndrome.
When all the necessary information has been gathered, we make very specific corrections to the joint problems detected. These adjustments help restore alignment and function enabling your body to heal affected nerve structures.
We may give you exercises and sometimes recommend a splint.